A Beginners Guide
Hello and thank you for visiting Web-Source.net.

My name is Shelley Lowery and I am the owner and developer of Web-Source.net.

If you want to learn how to make your own web pages on the Internet, but have no idea where to start, this article will provide you with the exact information you'll need to get started, including what you can expect to pay to get your website up and running. However, before I begin, I'd like to tell you a little bit about myself, and how I got started, so you'll know who you're dealing with.

When I started online back in 1997, I was completely overwhelmed with the Internet and had absolutely no idea where to start. I knew that I desperately wanted my own Internet business, which would require me to build my own web site, but I was very low on cash and there wasn't much information available to assist me at that time. For this reason, I knew I would have to do everything myself, which included learning how to design my own website.

I spent countless hours online researching and learning everything I could about the Internet and business website design. I went to web sites that I admired and looked at the source code (HTML code that is used to create a web page) so that I could see exactly how that site was made.

The first time I looked at all that HTML code I was completely overwhelmed. I began to feel a bit discouraged thinking maybe I was trying to take on a bit more than I could handle. However, when I began to really look closely at the coding, I began to see how things worked. It really wasn't as difficult as I thought. And the more I looked at the code and began testing different things, the more confident I became. I realized that web page design really wasn't hard at all! At that time, I knew I could learn how to make my own website.



Continue reading this Web Page Design Article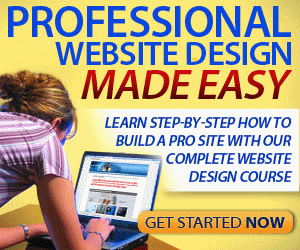 How To Recover From Google Penguin Update: Get Quality Back Links
By Jacques Neel Copyright © 2012
The latest update from Google that carved marks of worries is the Penguin update. This update is a modified version which was initially known as Web spam update has been cracked to stop search engine manipulations and target webmasters who have been engaging in such tactics to gain better search engine rankings. As per the Google's guidelines, webmasters cannot participate in linking schemes for increasing a site's Page Rank. Many companies offering SEO consulting services thought that April 24, 2012 has brought the start of new age in search engine optimization field. While some consider the update to be unfair, some webmasters who have been following ethical measures to enhance their page ranks but were lagging behind the manipulative competitors are considering this tweak as a real blessing.
Google Penguin update is being initiated to minimize the web spamming rate and remove the spam websites that have been adopting black hat measures to generate better rankings. This update has seen many webmasters being flooded with warning messages like "unnatural links had been detected" along with the sudden downfall in the site's ranking. This is due to the identification of the websites which have been taking place in link building services to get improved Page Ranking. Now, the question which is bothering the webmasters and SEO consulting services is how this update can affect SEO.
Google Penguin will penalize the inferior quality websites from listing at the top of the search engines. It goes without saying that there are websites which have initiated to compete and attain desired goals against the websites that have used wrong SEO tactics to manipulate the search engine bots. With the Penguin update, Google has decided to undervalue the links as well as the websites that have appalling content. Hence, the companies offering SEO optimization services need to be more careful while optimizing a website.

Continue reading this Web Page Design & Web Page Development article
| | |
| --- | --- |
| eTips Member Login | |
Enter your email address and password to enter the private membership area:


Lost Password?