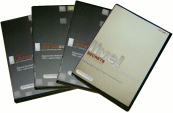 Review: Corey Rudl's Ultimate Seminar Videos
By Corey Rudl - The Internet Marketing Center
Corey Rudl, author of the #1 best-selling Internet Marketing course online, The Insider Secrets to Marketing Your Business on the Internet, has just released a phenomenal new "Tell All" video series, titled Ultimate Seminar Videos. And, to tell you the truth, I was a bit surprised...

This video series allows you to experience the inspiration of a live appearance by Corey Rudl as he speaks at some of the most exclusive and expensive Internet marketing conferences and seminars -- these seminars sell out at anywhere between $500 - $2500 per seat!

Rudl literally spills the beans and discloses some of his highest-level secrets to quickly, easily, and automatically generating wealth from the Internet -- complete with on-camera demonstrations of HOW he used some of these methods to generate over $30 million online. I couldn't believe he was actually sharing this guarded information.

These high quality videos are loaded with valuable information, and packed with special "breakaway sessions" where Corey interrupts the footage from his live seminars to sit down with you and actually show you exactly HOW to do the things he talks about on stage.

For example, instead of just telling you that you should be sending follow-up email to your customers and subscribers, he actually walks you through the process and shows you how to write a compelling email promotion, what software you can use to personalize these messages, and how to ensure that your email gets delivered.

And that's just one example. You'll also learn Corey's own personal strategies for:

How even a complete beginner can now build a web site in less than 48 hours... for LESS than $100.
Where to track down 1,000s of FREE and dirt-cheap sources of traffic for your site.
How to find a targetable niche market that you can sell to almost effortlessly.
Why selling just ONE key product is the secret to most successful online businesses.
How to leverage the sales from that one key product into a lifetime of repeat sales and referrals.
... and much more!

Although attending a big conference or seminar conducted by some of the top well-known Internet marketing "gurus" would be the absolute "ultimate" learning experience, most of us simply can't afford to spend thousands of dollars when we're first starting out.

That's exactly why Corey created this video series -- he said he realized that if he couldn't personally invite YOU to attend his seminars, he needed to find a way to invite himself into YOUR living room -- and let you watch clips from his best speaking engagements, with his most powerful marketing secrets on your own television, from the comfort of your home.

So he decided to hire a professional camera crew and drag them across the country to the handful of events he'd planned to speak at... He wanted to give you the benefit of attending NOT JUST ONE event with him -- but THREE exciting seminars!

His plan went like this: Once he had captured footage from all his best events, he would hand-pick the best clips from each event and distill it down into about 3 hours of pure, "no B.S." Internet marketing knowledge and inspiration with topics like:

The number one reason why most online business ideas never even get off the ground, and the simple step you MUST take in order to get started!
How every business -- even a hair salon or the corner grocery store -- can quickly, easily, and dramatically increase their profits almost overnight using the Internet.
The power of using free information to lure people to your site -- and putting that information to work for you as an "invisible salesperson."
How to structure your web site so visitors stay longer to explore... and buy! (Whether you sell 10 products or 10,000 products, you risk losing 50% of visitors with every "click" you ask them to take -- he'll show you how to keep them on your site longer, guaranteed!)
The secret key to exploiting the "80/20 Rule" that will help you extract maximum profits from your most loyal customers.
If you're in the early stages of your Internet business, this is going to be an invaluable resource for you. Chances are, you will never have the opportunity to sit down with the single most well-known online marketing expert -- in the comfort of your own home -- and have him show you how to duplicate his success. These videos are the next best thing.

They cover absolutely everything you need to know to get your own profitable online business up and running and I highly recommend them -- total top-shelf presentation...


Visit The Internet Marketing Center to get the Ultimate Seminar Videos today...

To Your Success!




PS - If you hurry, you can get your hands on an absolutely fabulous free bonus! However the quantities are extremely limited and available ONLY to the next 250 customers!

As a very special gift for the launch of this new video series, for the next 250 customers ONLY, Corey will be including a VHS or DVD copy of an astonishing 67-minute interview he recently recorded with Jermaine Griggs.

(For those of you who don't recognize his name, Jermaine has built a $500,000-a-year business from nothing in just a couple of years selling piano lessons, of all things!)

When he was planning this interview, he booked the film crew for half an hour, thinking that a 30-minute interview would probably be long enough. Boy, was he wrong! They kept the camera rolling for TWO solid hours as Jermaine spilled his guts about how he's managed to go from inner-city kid working from a corner in his grandmother's living room to the owner of a $500,000-a-year business!

The editor did his best to cut the footage down, but they STILL ended up with well over an hour of hard-hitting questions and answers about the clever strategies Jermaine has used to build his simple web site into an online cash machine that has allowed this 20-year-old from the inner city to buy a Mercedes, a new home, and put an astonishing amount of money into the bank. He really does "tell all" in this exclusive interview!

Visit The Internet Marketing Center to get the Ultimate Seminar Videos today...