A Beginners Guide
Hello and thank you for visiting Web-Source.net.

My name is Shelley Lowery and I am the owner and developer of Web-Source.net.

If you want to learn how to make your own web pages on the Internet, but have no idea where to start, this article will provide you with the exact information you'll need to get started, including what you can expect to pay to get your website up and running. However, before I begin, I'd like to tell you a little bit about myself, and how I got started, so you'll know who you're dealing with.

When I started online back in 1997, I was completely overwhelmed with the Internet and had absolutely no idea where to start. I knew that I desperately wanted my own Internet business, which would require me to build my own web site, but I was very low on cash and there wasn't much information available to assist me at that time. For this reason, I knew I would have to do everything myself, which included learning how to design my own website.

I spent countless hours online researching and learning everything I could about the Internet and business website design. I went to web sites that I admired and looked at the source code (HTML code that is used to create a web page) so that I could see exactly how that site was made.

The first time I looked at all that HTML code I was completely overwhelmed. I began to feel a bit discouraged thinking maybe I was trying to take on a bit more than I could handle. However, when I began to really look closely at the coding, I began to see how things worked. It really wasn't as difficult as I thought. And the more I looked at the code and began testing different things, the more confident I became. I realized that web page design really wasn't hard at all! At that time, I knew I could learn how to make my own website.



Continue reading this Web Page Design Article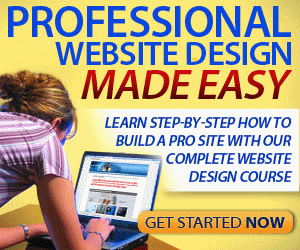 7 Useful Google Webmaster Tools to Optimize Your Web Site
By Nilantha Jayawardhana Copyright © 2013
A basic step followed by Web Designers after completion of designing is to submit a Sitemap in Google. This ensures client that Google will start crawling their Website. However, there are many more insights that should be tracked for a better ranking position in Google.
Verify preferred domain for your site. (www vs non-www)
It is an important parameter that needs to be fixed before marketing your website for back-links. If you have hired an SEO Company which usually assign task of creating back-link to more than 3-4 different employees, these employees sometimes include your website as "http://www.example.com" and sometimes "http://example.com" while creating a back-link. It will be considered as two separate pages by Google hence it is always recommended to set preferred version of your domain.
Geographic Target
This parameter is important for websites with neutral Top Level Domain such as.com.biz etc. You may want to assign a specific location for improving your ranking in a particular region. If you have country level domain, you may want to skip this step.

Continue reading this Web Page Design & Web Page Development article