If you like Web-Source.net and are planning on placing a link on your site, why not join our affiliate program and earn a full 50% commission on sales generated through your link?

We are currently offering two quality products :


Web Design Mastery is being hailed as the "Bible" for professional web design. This eight volume series is an in-depth guide to professional web design. Over 500 pages of the exact information you need to create a professional web site in the easiest possible fashion...with hundreds of copy and paste codes. It simply doesn't get any easier than this.

There are literally millions of Internet users with thousands more coming online each day. Many of which would love to have the ability to create their own web site. Not just any web site, but a professional web site specifically designed to sell.

Web Design Mastery is the most complete professional web design course on the Internet. And is the only course that provides you with the exact codes you need to create the site of your dreams.

This ebook targets a huge potential customer market and will practically sell itself with a quality recommendation from you to your visitors.



Learn More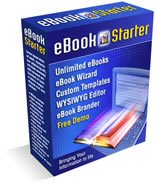 Announcing eBook Starter -- the first ebook software that includes its own text editor!

Give your ebooks the look and feel of a real book, notebook, manual or report -- with our professionally designed templates...

If you can use a simple word processing program, you can create ebooks with eBook Starter!

Ebook publishing simply doesn't get any easier than eBook Starter -- guaranteed!

Learn More

Even if you already have your own product, why not add an additional stream of income to your web site? You can join the Web-Source.net affiliate program completely free and earn a full 50% commission for each and every sale you make.

Your commissions will be paid directly to you from ClickBank. If you're not familiar with ClickBank, make sure you visit their site for further information in regard to the affiliate program.



Product

Linking Address

Affiliate Resources

Web Design Mastery

http://clickbanknickname.wsnet2.hop.clickbank.net/

No ClickBank Nickname? Click Here

Ebook Starter

http://clickbanknickname.wsnet.hop.clickbank.net/

No ClickBank Nickname? Click Here